Why are you teaching your students about St. Patrick's day?
Sometimes we get caught up in the hype of St Patrick's Day (and other celebrations) and sometimes forget to reflect on why we are celebrating and teaching our students the origin of this special day.
I decided to spend a some time researching Saint Patrick and his day. I hope the information helps you to impart knowledge about Saint Patrick's Day, which is typically celebrated on March 17th.
The records of Saint Patrick are quite vague and sometimes conflicting.
He was born in the 4th century and lived for 88 years.
He was born in Wales and was kidnapped by pirates and sold into slavery.
Maewyn escaped after spending 7 years away from his family.
He spent time in France and discovered his religion with Saint Germain.
He later travelled to Ireland and here converted people from Paganism to Christianity.
To read more please click on the links below.
The best link I found was from Your Dictionary;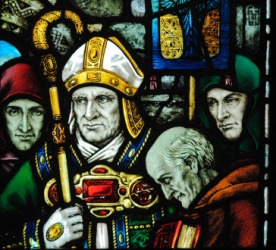 Also try:
For more Saint Patrick's Day resources see:
All
Free
Teacher
Resources
, where everything is free.